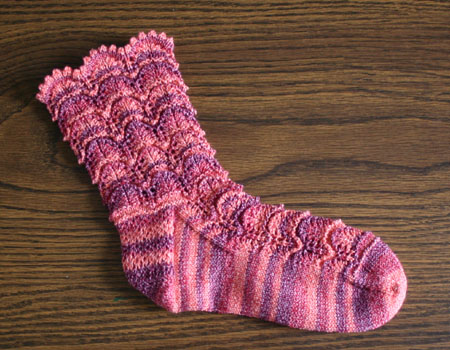 OK, so it's only one sock. But I'm super happy with how it came out. I actually knit a good deal of it during breaks in rehearsals, so it was a pretty easy lace pattern to keep track of. I grafted the toe last night, but I didn't cast on the second sock because the picot edging is a bit fiddly and I was too tired to concentrate that much. I should definitely do that tonight before I succumb to Second Sock Syndrome!
Update: I've gotten a few inquiries about which pattern I'm using, and although that information (and the details about the yarn) is in a previous post, it's the Lacy Scallops pattern from sockbug for anyone who's interested. Thanks!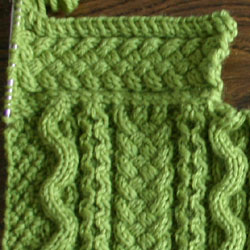 I've also gotten a fair amount done on FLAK. In fact, I'm surprised at how quickly this is knitting up: I started the saddles just one week ago, and I'm flying through the back. Right now the armhole depth is about 7″, and I'm planning on making it 9″ – although I'm starting to worry that it won't be deep enough. I don't really have an Aran-weight sweater to measure the armhole depth on, so I'm guessing from the finer-gauge sweaters that fit me well.
I also guessed at the neck measurement, and I'm a little worried that that will be too wide at 8″. But then again, I don't like anything too tight around my neck. Plus it's going to be a v-neck cardigan, so if it's a little on the big side it will still look OK.
The next decision I have to make is whether the cardigan will button or zip. I'm leaning towards buttons at the moment, but I will have to make a firm decision before I start the fronts so I know how many stitches to cast on.
This is definitely a fun project, because this sweater – even though it seems like half the knitters on the Internet are knitting it – will be completely customized to fit me, and I hope I can take some of this and apply it to other projects so I end up with things that fit well more often than not.