Today started out with a breakfast at Chef Mickey's. The food was decent – just your usual breakfast buffet types of foods, but the characters were definitely fun. Anna was not quite sure about the characters, but wasn't really afraid of them either. Carrie was just thrilled! We got to see Mickey, Donald, Goofy, Minnie and Pluto.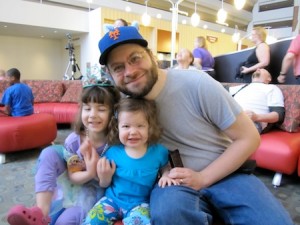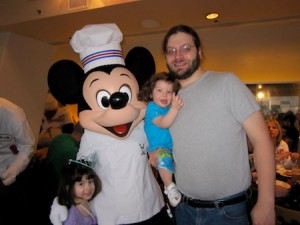 The Contemporary is easy walking distance to the entrance of the Magic Kingdom, which is where we headed next. First stop: It's a Small World! Anna was as entranced by this ride as Carrie was on her first trip, and Carrie is still young enough to enjoy it too.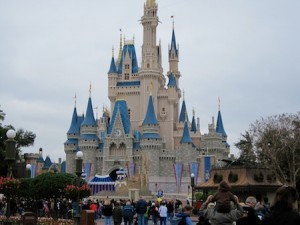 It was a little chillier than we expected, so after spending the morning riding a few other rides: Pooh, Peter Pan and Small World again, and waiting in line to see Ariel in her grotto, we headed back for lunch and a nap. And some jackets!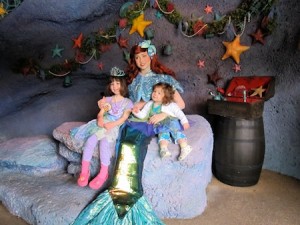 Once we were all rested and wearing warmer clothes, we headed back to Magic Kingdom and explored Tomorrowland. Carrie was begging to go on the Astro Orbiter, which we did. Denis and I have decided we're much to old to go on that ride again! The kids, however, did like it. Maybe they'll be old enough to go on it themselves next time? At least everyone enjoyed the Tomorrowland Transit ride and Buzz Lightyear!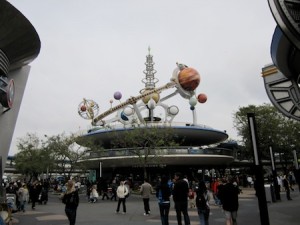 After dinner at Cosmic Ray's, we settled in on a bridge to wait for the fireworks display. It was great – they even had star and heart shaped fireworks! We made our way out of the park with the rest of the crowd and were very happy to be able to walk back to our hotel instead of waiting in line for a bus or the monorail!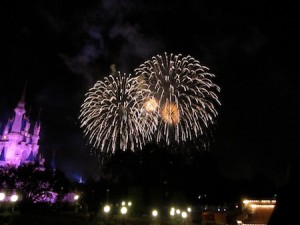 Tomorrow, we go on safari…