January 2010
You are browsing the archive for January 2010.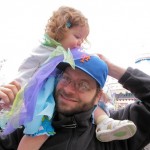 Today started out with a breakfast at Chef Mickey's. The food was decent – just your usual breakfast buffet types of foods, but the characters were definitely fun. Anna was not quite sure about the characters, but wasn't really afraid of them either. Carrie was just thrilled! We got to see Mickey, Donald, Goofy, Minnie [...]
Posted in Travel | Tagged Disney2010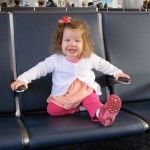 Our Disney adventure started with an early, slippery drive to the airport. And thank goodness we got there early – they boarded the plane and took off 20 minutes before our scheduled flight time! I sat with Anna, Denis and Carrie sat in the row behind us. We rented a CARES harness for Anna, which [...]
Posted in Travel | Tagged Disney2010
I don't really know where the time goes.  Somehow it's been over a month since I published all of my blog posts, and I really don't know how or why.  I thought I'd have so much more time after Carrie started school, but in reality I somehow have less time.  And I have so many [...]
Posted in General
I hate to say it, but it's entirely possible that Anna has watched one too many episodes of Dora.  After puzzling it over for a while, I'm pretty sure that what she's been going around all morning saying is, "Oh, Man!"  And the only time she would have ever heard that phrase would have been [...]
Posted in Anna | Tagged Random Bits of Cuteness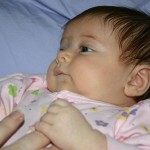 Dear Carolyn, Today you are 5-and-a-quarter years old.  Today you also met your twin baby cousins for the first time.  You were so excited to meet them!  You kept whispering to the girls how cute they were and how soon they would be big girls like you and you'd play with them and teach them [...]
Posted in Monthly Updates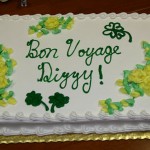 Dizzy Sheep is going on a voyage, à la Flat Stanley, to visit various friends around the country.  I made him a little travel case, and we had a little bon voyage party this evening. If all goes as planned, he'll be traveling until the fall!
Posted in Shop Talk
We had a nice quiet (well, as quiet as it ever gets with two kids) dinner at home and a small ice cream cake to celebrate Denis' birthday today.  Happy birthday, honey!
Posted in Family
Vital stats: 18 months, 6 days old 24 lbs. 14.5 oz. 32″ tall Anna had her 18 month visit today.  She's still pretty much right in the middle of the growth charts for height and weight.  The pediatrician was impressed with her vocabulary and how tolerant she was about being examined.  She only needed one [...]
Posted in Growing Up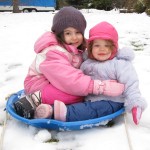 So, if the sled is for ages 6+, and there's a 5 year old and a 1.5 year old sitting on it, that's OK, right?  (Don't bother reporting me, there was maybe an inch of snow and no hill – not much danger there.) Oh!  And this was taken with my second attempt at a [...]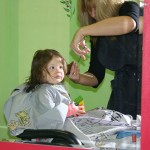 I love Anna's hair, but she was sporting a little baby mullet because she never lost all of her original hair in the back, it's just been growing non-stop since she was born.  There were long bits that when wet and straight would hang halfway down her back, but only a few curls were long [...]
Posted in Firsts