This morning we had a quick breakfast in our room and headed out to wait for the bus to Animal Kingdom.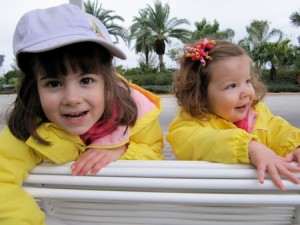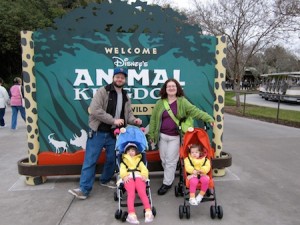 First stop: the safari.  It was amazing! Because we went so early in the day and the weather was so mild there were so many animals out and about. We saw elephants, lions, hippos, giraffes and flamingos. And an Okapi. And then we walked through one of the trails and saw even more animals, including lots of exotic birds and fish.
We had made lunch reservations at a place we've never been to: Yak & Yeti. It was absolutely fabulous: the food, service, and atmosphere was wonderful! We will definitely go back the next time we make it here.
Before we stopped for lunch it started raining, hard. And even though it slowed down a bit after, it was showing no signs of stopping. We ducked into a character greeting line for the Winne the Pooh characters, and then after we met them we went to a shortened musical version of Finding Nemo. The show was great – they used a combination of live actors and costumes that were partly puppets, and it was beautiful.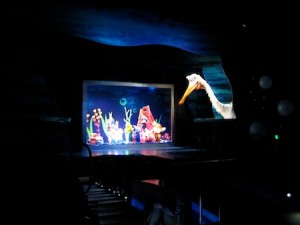 But when we got out of the show, the rain had not only not stopped, but had turned into a torrential downpour. We made the decision to head back and dry out a bit, and hope the rain would stop early enough to go back to another park after dinner. Anna conked out under her poncho in the stroller before we even left the park, and by the time we managed to get back on the bus we were all pretty tired and glad to be heading home for a bit!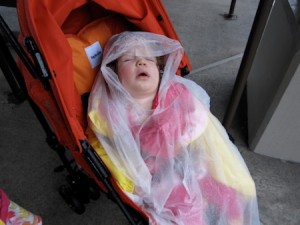 After a bit of a rest, we had some dinner in the room and then Denis took Carrie back to Magic Kingdom to fly on Aladdin's Magic Carpet and watch the Spectromagic parade.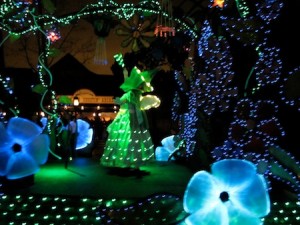 Another fun, full day, despite the rain!