This morning we had reservations to eat at Hollywood & Vine in MGM Hollywood Studios, so we could hang out with the characters from Playhouse Disney. Carrie still misses watching JoJo's Circus, so this was a great way to see JoJo and Goliath. Like Chef Mickey's, the food wasn't anything to write home about, but the girls had great fun dancing to the music and meeting the characters!
After breakfast, we headed over to the "new" Toy Story ride (new to us, anyway), grabbed some fastpasses for later and hopped in line to ride right away. Best. Ride. Ever. Even better than Buzz Lightyear! We saw the Little Mermaid show and then headed back to use our fastpasses…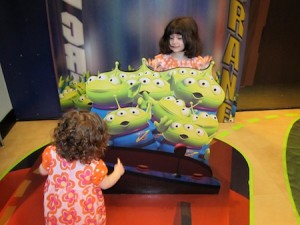 …and then we came out and it was…wait for it…raining again! The girls and I ducked into a photo line for Buzz and Woody (Anna wanted nothing to do with Buzz!) while Denis went to find our very wet stroller.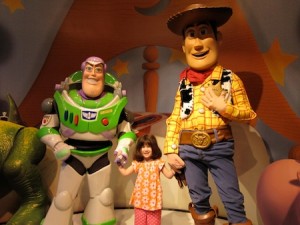 We sang "just keep swimming, just keep swimming" all the way to the Beauty and the Beast mini-show, then dashed back to catch the Playhouse Disney show. Anna loved that one – pretty much anything that involves bubbles and streamers is guaranteed to be a hit with her!
Denis took Anna back for a much needed nap, while Carrie and I headed to Pizza Planet for lunch. On the way, we took a quick detour to ride Star Tours – one of the few rides with height requirements that Carrie was actually tall enough to ride! After lunch we checked out the Muppets show (and I realized I've been very negligent in Carrie's education: she's never seen the Muppets before!) and then "met" the characters from Cars.
We toured the movie backdrops and visited the Honey I Shrunk the Audience playground, and then went on a little animation tour that ended in a room with lots and lots and lots of characters. Did I mention that there were lots of characters? We met the characters from Up and the Incredibles, saw Jasmine, Mulan, and the evil queen from Snow White – who asked Carrie if she liked apples!
And that sounds like a pretty full day, right?
But then we took a couple of buses to Downtown Disney! We met Denis and Anna at T-Rex, where we were originally sitting in the Ice Age room and had to ask to move because the lighting was giving us all headaches. Once we moved, though, we really enjoyed our meal – the room we wound up in had lots of giant sea creatures.  Carrie really enjoyed digging in the boneyard for a bit after dinner.
We wrapped up the day by buying a tub full of Legos at the Lego store, and a box full of Potato Head pieces and another box full of My Little Pony pieces at the giant toy store.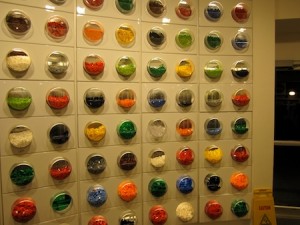 We were really, really impressed that Carrie not only walked the entire day, but she was skipping all the way back to the bus when we finally left Downtown Disney!