Another quick breakfast in the room, because today we headed to Epcot! And we finally had some nice sunny weather!
We went through Spaceship Earth first, which has definitely changed since we were there last time. One annoying thing was that the ride kept stopping (sometimes several times in a row, just a little bit apart). We think it was to help passengers with limited mobility load, but the annoying bit was more that they kept announcing that the ride was stopped and to stay in your seats while the narrator was talking, so we'd miss important bits of the story the ride was supposed to be telling.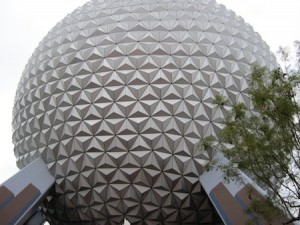 Now, we know lots of people think Epcot is the least fun park, but it's pretty much hands down our favorite. So right after Spaceship Earth, we grabbed a passport kit and headed to the world showcase.
We ate in Mexico, at San Angel Inn. It was yummy, but possibly the least little-kid-friendly place we ate at (it was pretty dark and the kids' menu options were not really that great). And in Mexico Carrie started working on her Kidcot mask.
In Norway, Carrie survived the Maelstrom, while Anna took a 10 minute stroller nap. Not quite what we were hoping for…since Epcot is so big and so much walking we hadn't planned to go back to the hotel for a nap today – but 10 minutes isn't very long!
We saw some amazing acrobats in China, then stopped for a quick bout of drum playing and ice cream eating at the Outpost. Denis got himself a beer in Germany, and we caught another show and admired the architecture in Italy. We stopped in America just long enough to visit the Kidcot station.
Finally, we headed for Japan, where we had a wonderful dinner at Tokyo dining. The kids' plates were shaped like trains…which Anna decided were much more fun to push around the table than actually eat from.
We wrapped up the evening by hiking all the way to Canada to see Off Kilter (warning: their site plays music). We love this band, and were really amused to watch the girls dance like maniacs to their music! And then we staked out a spot to watch the fireworks. Anna conked out before the fireworks even started, and slept right through them. Carrie was asleep before we got back to the hotel. And we were very happy that we'd brought both strollers!