Today was another sunny day, and we walked over to Magic Kingdom to meet some fairies! Denis and Anna walked through the park while Carrie and I took the railroad around.
We stood in line for a very, very long time to meet the fairies. But it was worth it to see how excited Carrie was to meet Iridessa, Tinkerbell and Silvermist.
When we left Pixie Hollow and grew back to our normal size, we had just enough time to make it to our lunch reservation: Cinderella's Royal Table! Of all the dining experiences we had in Disney, this was by far the most expensive. And it was also, by far, the most excellent! Really, the food here was top notch, and the character experience was great. The girls were visited by Snow White, Sleeping Beauty, Jasmine and Belle – and all this was after seeing Cinderella herself downstairs. The cutest bit was that they had wishing stars and wands for the kids. At one point, they held a wishing ceremony. Carrie's wish? To spend "half the time as a fairy, half the time as a princess, and half the time as a mermaid".
After lunch, we headed back to Toon Town – we've heard rumors that by the next time we go it will have been replaced with another attraction, so we spent some time on the playground and in Mickey and Minnie's houses. Denis took Carrie on Goofy's Barnstormer – another minimum height ride – which Carrie loved. And then we headed back for a nap and a rest.
Anna napped (and I suspect Denis did too!) while Carrie and I checked out the pool. It had a zero entry area and a small waterslide that Carrie went down over and over. She contemplated the big waterslide (not super duper big, but big enough!) but changed her mind at the last minute. And we took a short dip in the hot tub, which is funny considering how tepid the bathwater has to be if we don't want to hear wails about how she's being burned alive… After we (mostly) dried off, we checked out the strip of beach on the other side of the hotel, where Denis and Anna found us. Anna wasn't quite sure she liked the cold sand between her toes!
We had a quick dinner, then headed back to the Magic Kingdom. For some crazy idea we thought we'd take the kids on the Haunted Mansion ride. Which was scary for a few reasons – mostly because it kept stopping for long periods of time, and we were sure we were going to be trapped there until we became ghosts ourselves! After that, we bored the kids with the Hall of Presidents (which had been closed for renovations the other two times I've been). I was pretty impressed with the show, and am glad I finally got to see it.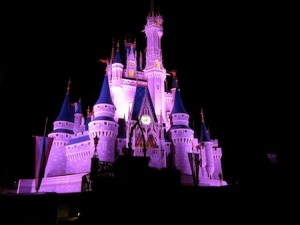 As we exited the theater, the Spectromagic parade was passing through, so we watched the end of that. Carrie was so excited to see it again! And finally, Denis took Anna home to bed while Carrie and I sat right in front of the lit-up castle to watch the fireworks again. We were both a little sad that we won't get to see them again until next time we come to Disney!