Our last day at Disney – this trip anyway – and we headed back to Epcot to see some of the things we didn't get to the first time there, and to finish our world tour!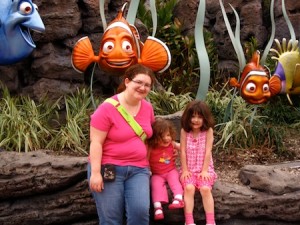 First, we headed for The Seas. The Nemo ride was a huge hit with the girls, and Anna has found a new favorite character: "Nee-Moh!" We walked around the giant aquarium, and saw lots of really neat fish. I herded everyone into the Turtle Talk with Crush show, which was "totally sweet, dude!" Really, it was hilariously funny and something to put on our don't-miss list for next time!
After the seas, we headed for The Land. Anna was too little to go on Soarin', and we couldn't actually do a switch off at the entry point like you can for many rides, so we had to take turns – which took forever! But it was definitely fun, although given the option to go again with Denis, Carrie chose not to. After we had all soared over California, we went to Sunshine Seasons for an early lunch, to prepare ourselves to walk from Canada to Morocco!
Canada was mainly a quick stop just to work on the mask, and then we visited jolly old England, where we saw a troupe of performers that were rather Python-esque. In France, we stopped for some delicious pastries, because, really, Epcot is just an excuse to sample cuisine from all over the world, right?
We spent a good deal of time in Morocco, both to let Carrie finish her mask and because the architecture there is so beautiful.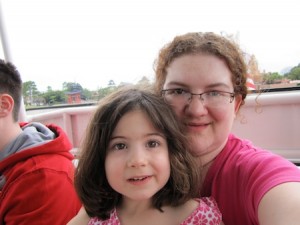 Weary from our world travels, we boarded the ferry to head back, where we ducked into Mouse Gear just as the rain started falling in earnest. It took a while to pick out t-shirts for everyone, and the rain just didn't let up.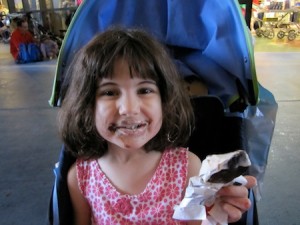 Denis decided to take Anna back to the hotel and Carrie and I ran through the pouring rain long enough to get a couple of Mickey ice cream bars. We tried to wait out the rain, but ultimately decided to call it a day.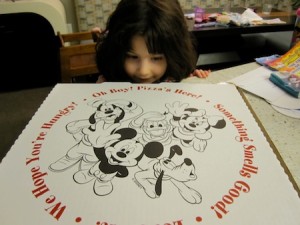 We ordered in pizza for dinner and then walked down to the hotel arcade for a bit. Did a little more shopping in the hotel gift shops, and then headed back to pack up and put the kids to bed.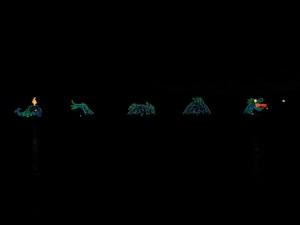 I did one last thing before going to bed myself…our first night, we had heard some strange music out on the bay, and after a little research discovered it was the Floating Electrical Pageant. We'd only really watched it through the windows of the hotel room every night – and the kids were soundly asleep and never did get to see it – so I walked out onto the dock to get a better view, along with some pictures and video. It was even maybe a little stranger out there…definitely an unusual way to end a vacation!