March 2010
You are browsing the archive for March 2010.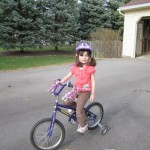 Anna has big-girl bike envy, and suddenly the little pink ride-on car is nowhere near cool enough. So I got out Carrie's trike to see if Anna could ride it. She's still a little too small to reach the pedals comfortably, even on the smallest setting, but she does love to push it! I have [...]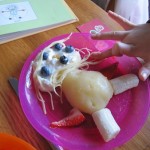 We've had this cookbook for a while, and used it a few times, but never to make the title recipe. Today we made Salad People for dinner. Carrie couldn't decide between making a person, robot or alien, so it's a combination of all three. And I've discovered that the kids don't even like cottage cheese [...]
Posted in Food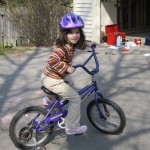 We picked up a new (to Carrie) purple bike with training wheels from a Craigslist seller today, and stopped at the bike shop for a new helmet and a new purple bell. And then Carrie got to ride her first two wheeler. (With training wheels, of course.) Doesn't she look so big?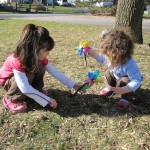 The pinwheels I bought last year have definitely seen better days, but the girls still love to play with them. Anna calls them "flowers" and holds them up in the sky to try to get them to spin. I think I'm going to have to look for some new pinwheels soon!
Posted in Anna, Carolyn | Tagged random bits of cuteness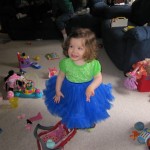 Shockingly enough, this was our ninth annual St. Patty's Day party. Next year we're going to have to do something super special I think! Anna insisted on wearing the blue dance skirt all day, and Carrie had a blast hanging out with all of her friends. I forgot to buy a silly hat this year, [...]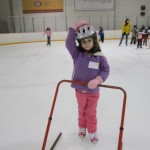 Today was our big first ice skating lesson day. Carrie started Snowplow Sam, and I'm in the Basic 1 class, for ages 6 to adult. I am the biggest "kid" out on the ice. Which I felt a little self-conscious about for the first few minutes. And then I realized, I didn't actually care what [...]
Posted in Carolyn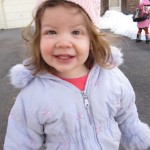 Dear Anna, Today you are 20 months old. That's a lot! I feel like I can't really say that you're one and a half anymore, because when you're only talking 20 months, 2 is a pretty big percentage of that. You now have 13 teeth. And you *love* to brush them. Of course Daddy or [...]
Posted in Anna, Monthly Updates
Even big, grown-up kindergartners still get to wear PJs to school! And on a half-day, of course, so we had to go out to lunch after. With Carrie still in PJs. Surprisingly few people gave us strange looks…
Posted in Carolyn | Tagged School Days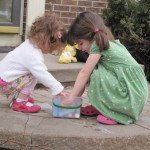 There was still snow on the ground, but it was so warm yesterday afternoon that the girls wanted to play with chalk. It might not have been short-sleeves warm, but Carrie insisted…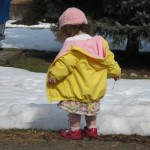 Anna and I took a walk this morning to enjoy the beautiful sunshine. Every few steps she'd say "look!" and point to something. "Look, snow!" "Look! Dir-tee snow!" "Look! Trees!" "Look, mom-ee, look!" And every puddle in the drainage ditch: "Look, fishy, look, Nemo!" (I didn't see any fish, but maybe I wasn't looking hard [...]
Posted in Anna | Tagged random bits of cuteness