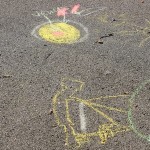 We tried to use my (very old) telescope to watch the transit of Venus earlier this evening. We dropped a UV filter from my camera in the end and covered the (white) reflection plate with black construction paper to try to tone down the intense sunlight, but even with all that…the pictures were not so [...]
Posted in General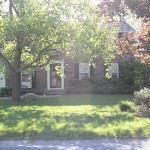 When we moved in, we had big overgrown bushes in front of our house. They've only gotten bigger and more overgrown over the past nearly-13 years: And now they're gone! I have a nice, clean blank slate (well, minus the overgrown burning bush that I couldn't bear to have pulled out – we'll try to [...]
Posted in General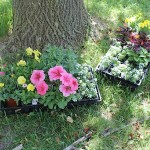 Annuals…check! Anna-sized gardening gloves…check! Amazing insects…check! A good time was had by all – even the caterpillar.  We put him on his very own leaf.
Posted in General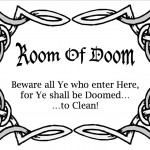 My craft room has once again become cluttered and messy – I swear that the craft supplies have a big party every night and scatter themselves about randomly. So the craft room is the "Room of Doom" at the moment. What's the "Room of Doom" you ask? Well, I made a nice poster to hang [...]
Ahhhh.  A do-nothing day.  The very best kind of day!
Posted in General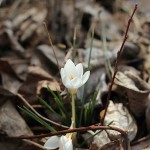 She clasped her hands for pure joy and looked up in the sky and it was so blue and pink and pearly and white and flooded with springtime light that she felt as if she must flute and sing aloud herself and knew that thrushes and robins and skylarks could not possibly help it. ― Frances [...]
Posted in General, Photography, Reading
I just drove home from work, feeling rather tired and thinking I'd go to bed relatively early tonight.  As I passed the back entrance to the school campus, I had my eyes peeled since I'd seen deer on my way into work along this road.  Just before I reached the top of the hill, though, [...]
Posted in General
Anna and I spotted these "Living Lantern" planters walking into Wegmans.  Also known as Chinese Lanterns, they absolutely fascinated Anna and I figured they'd look nice on our front step.  Something different from the potted mums I usually put out for the fall!
Posted in General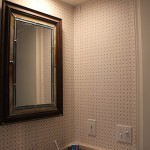 Unlike most people, I find stripping wallpaper to be a form of stress relief.  I know I'm weird.  But when it's easy, it's really quite satisfying… I put this wallpaper up myself, about ten years ago.  And now it's falling down.  I know it was put up properly – well, aside from the falling down [...]
My day started with oversleeping.  Then there was no coffee in the house.  And then I had to watch our two (expired) carseats being crushed by the garbage truck as I was pulling down our driveway to go get coffee.  And I've spent the last several hours changing over Anna's closet and dresser, putting away [...]
Posted in General