Firsts
You are browsing the Firsts tag archive.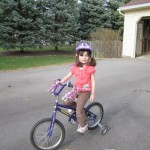 Anna has big-girl bike envy, and suddenly the little pink ride-on car is nowhere near cool enough. So I got out Carrie's trike to see if Anna could ride it. She's still a little too small to reach the pedals comfortably, even on the smallest setting, but she does love to push it! I have [...]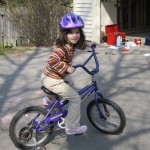 We picked up a new (to Carrie) purple bike with training wheels from a Craigslist seller today, and stopped at the bike shop for a new helmet and a new purple bell. And then Carrie got to ride her first two wheeler. (With training wheels, of course.) Doesn't she look so big?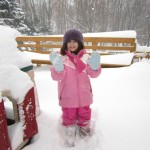 And another first: Carrie's first snow day off from school. Between a superintendent's day, the trip, February break, the past three days when she's been out sick, and today's snow day, she's attended school for 6 days in February. (To be fair, there have only been 13 days when school was actually in session, but [...]
Posted in Carolyn | Tagged Firsts, School Days
Carrie is out sick from school today, her first actual sick day this year. Definitely tomorrow too. Poor kid.
Posted in Carolyn | Tagged Firsts, School Days