Browse:
Home
/
School Days
School Days
You are browsing the School Days tag archive.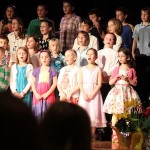 Carolyn had her third grade concert this evening.  (Since she's in a 2/3 multi-age class, she's in the concert as a 2nd grader – she won't be in it next year.)  The kids did a fabulous job, and the concert was beautiful!
Posted in Carolyn, School Days | Tagged School Days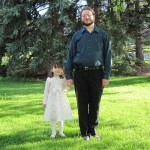 Every year, the primary school holds a father daughter spring dance.  Usually it starts in 1st grade, but the youngers in the K/1 class are also invited. It sounds like everyone had a good time, though from the video snippets that Denis took it really looks like the girls were all doing line dances while [...]
Posted in Carolyn | Tagged School Days
Even big, grown-up kindergartners still get to wear PJs to school! And on a half-day, of course, so we had to go out to lunch after. With Carrie still in PJs. Surprisingly few people gave us strange looks…
Posted in Carolyn | Tagged School Days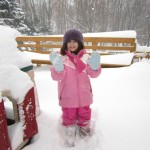 And another first: Carrie's first snow day off from school. Between a superintendent's day, the trip, February break, the past three days when she's been out sick, and today's snow day, she's attended school for 6 days in February. (To be fair, there have only been 13 days when school was actually in session, but [...]
Posted in Carolyn | Tagged Firsts, School Days
Carrie is out sick from school today, her first actual sick day this year. Definitely tomorrow too. Poor kid.
Posted in Carolyn | Tagged Firsts, School Days